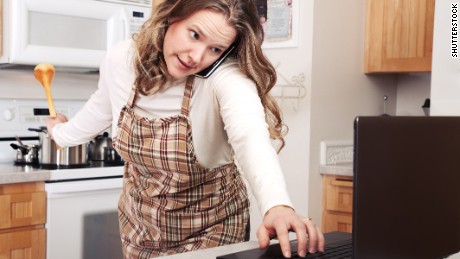 Writing a story about Thanksgiving stress is ironic, because I don't personally feel stressed at all as the holiday fast approaches. I keep waiting for the stress to hit me like a sledgehammer, especially since we are hosting for the first time in more than five years and my mother-in-law and sisters-in-law, whom I adore, keep asking if I'm sure I really want to host.
"Are they trying to tell me something?" I wonder to myself.
The stress will undoubtedly kick in when I start cooking turkey for only the second time in my life, along with stuffing and side dishes I'm still Googling how to make. Add in an exhausted husband and children hoping for pie before dinner – and the pressure that Thanksgiving is my family's favorite holiday of the year – and the anxiety begins to climb.
So, what to do when you feel the stress level starting to rise? Reach out to others and ask them how they cope this time of the year.
The unconventional approach
Pam Rak, a married professional in Pittsburgh who is cooking for 22 family members, said the stress starts long before "the pots and pans will come out" because in her family, the first challenge is finding a day to celebrate that works for everyone.
"No, we don't celebrate on Thanksgiving Day. Why, you ask?" wrote Rak, president of a national marketing firm, in an email. "IN-LAWS! Everyone has two places to go on Thanksgiving Day, which makes all of the hard work associated with cleaning your house, cooking dinner, setting the tables go to complete waste if people rush in and have to leave to go to another dinner on the same day."
After having learned the hard way, she said she and her family now have their big Thanksgiving feast the day before Thanksgiving. "It may be a bit unconventional but it works for us (after years of aggravating scheduling conflicts!)" she said. She still needs to cook for 22 and have the meal ready a day before most of us. How does she manage? "Cooking with lots of wine! Thankfully," she said.
School psychologist Louise Sattler, a mom of two grown children, is planning a Thanksgiving night out. Her daughter's boyfriend is a chef and so instead of "slaving over a hot stove," they'll be going to the restaurant where he works. "Did I mention it is a kosher fusion restaurant! Nothing says Thanksgiving more than that – huh!" wrote Sattler, co-founder of 411 Voices, a collective of professionals with social media expertise.
Ellen Williams, co-founder of Sisterhood of the Sensible Moms, has done something she hasn't quite had the courage to do before. "In a bold move, I waved the white flag and sent out a very direct email saying I was too overwhelmed to host Thanksgiving this year," she wrote. "I have never, ever let myself admit that I could not handle something before in my life but you know what? It feels good. I'm just bringing the pies to my in-laws."